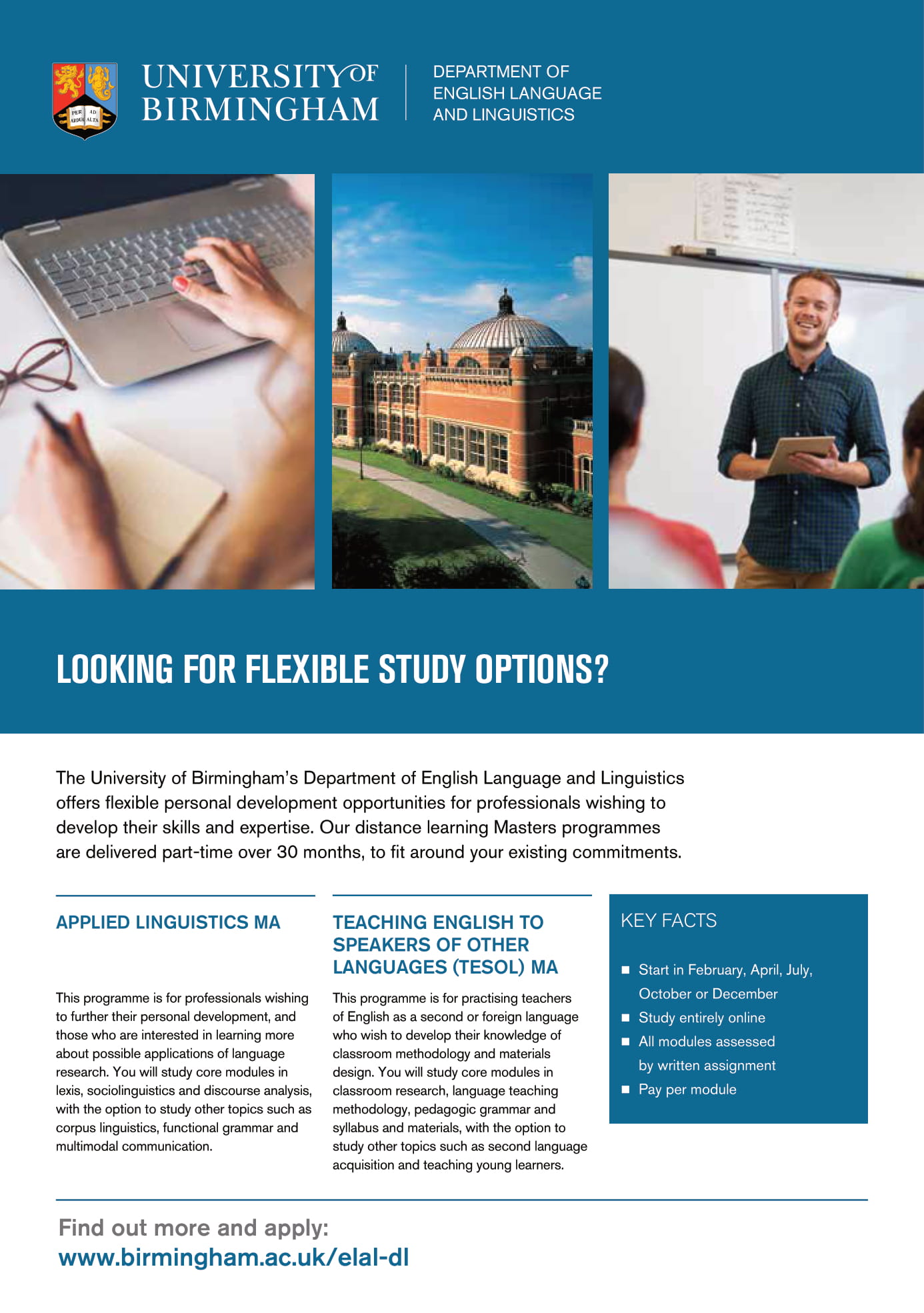 Introduction to Programmes
FAQ's: Programme Length, Start Dates, Fees, and How to Pay
Listen to what some of our alumni talking about the programme. Listen to what previous students have to say about the programme and about their experiences of distance learning.


"Here is the story of Joanne McCuaig's journey as a PhD Candidate with the University of Birmingham. She also shares details of her experience as a distance MA student, starting around the 23 minute mark."
University of Birmingham: MA TESOL and MA Applied Linguistics
I graduated from the University of Birmingham's, MA Applied Linguistics (AL) program in 2012. Like other teachers in Korea, I'd been teaching for many years and had some certificates that helped me to organise my classroom skills, but I was looking for more. I wanted recognised credentials and a better understanding of the components that make up our profession. I wanted to know things like why textbooks were organised a particular way and how I could better suit materials to meet the needs of my students. The Birmingham program allowed me to learn not only the content of the courses but also how to conduct research, both in and out of my classroom, and how to write at the graduate level.
Why I Chose a Distance Program
There were four main reasons why I chose to complete a distance program versus going on campus. 1) I wanted to work while I studied 2) I wanted to be able to use my skills immediately, which also helped to offset the cost of completing the program. 3) It allowed me to pace my studies; being a part-time student allowed me more time to reflect on what I'd learnt. 4) It wasn't feasible for me to move overseas to complete a program as I had personal and professional commitments tying me to South Korea.
The Application Process
I mention the application process because I was impressed that there are four different starting times for the program; February, April, July, and October. This showed me that there was already flexibility with the program and an element of control that I as a student would have in my studies. I had vacation plans already set and was pleased I didn't have to either delay my trip or pack a bunch of books to bring with me.
What Do You Study?
Birmingham has both TESOL and AL degrees and there is overlap between the two programs. Such classes as Methodology, Research Methods, Second Language Acquisition, Pedagogical Grammar, and Discourse Analysis are similar to other MA programs that are popular in South Korea. Optional courses that Birmingham offers, such as Testing and Phonology, appealed to others on the program while I myself enjoyed the Corpus Linguistics and Functional Grammar modules. Again, this flexibility allowed me to focus my studies on areas that were of interest to my current teaching context. To achieve the MA, you take six modules and write a research dissertation.
Program Length
It takes 30 months, or about 2.5 years to complete the program assuming that you take no breaks between your studies. To accelerate the program, you have the option to study on campus in England, I personally know two students in Korea that took that route, allowing you to finish in 22 months. You also have the option, as a distance student, to simultaneously work on the sixth module and the dissertation, thereby finishing the degree in 20 months. Personally, I preferred the slower pace to allow me more time to reflect on what I'd learnt and to apply it while I was still in my classroom. I could also spread out the cost over the duration of the program; about 10,260 GBP in total or 15.5 million KRW (at the time of writing).
Time Commitment
Speaking with other students, in general, it takes about 10-15 hours of studying a week; the variation depends on how well you know the subject matter. The program requires a 4000-word assignment at the end of each module so I needed to increase my time commitment accordingly. Being a distance learner requires you to set your own schedule for studying, which can be difficult at times when you are also working. I found that by setting a predetermined time, usually in the mornings before work and a few hours on the weekend, that I was able to keep on top of the readings, but every student has their own preference. Both my studies and employment benefited from me being in control of my time.
Materials and Course Conduct
The modules, by way of PDFs, are offered online on a system called Canvas. There are discussion boards and chat forums along with some video content, but the majority of the program requires you to read the content. There is no requirement to participate in the chat or discussion boards, which appealed to me because I wanted to focus on learning the content and could chat about it with coworkers or at the Summer Seminar held annually in Seoul. Two professors from campus come to Seoul for a week of special sessions that are free for currently enrolled students to attend. I didn't attend my first year and regretted it as being able to speak with others on the program really motivated me.
There are additional textbooks to read, many of which are offered online via Birmingham's extensive e-library or sold in Korea. When I completed the program, you needed to purchase most of the books but thankfully now a lot more of them are available online.
One of the biggest draws of the program was the personal tutor that Birmingham allocates to each student. It had been many years since I had written an academic paper and having a tutor to review and make suggestions on my papers was invaluable.
Value
As previously mentioned, I learnt the content of my MA, along with research and writing skills. I was amazed that even years after completing the program, when faced with a teaching dilemma I would recall something that I had learnt from my MA that would assist me in solving the issue. The ability to research and write at the graduate level has also proved beneficial outside of the classroom. While it can be challenging to study via distance, I personally found that the organisation and support that Birmingham provided, along with a high-quality program, made it worthwhile.
Bio:
Joanne McCuaig is a PhD Candidate with University of Birmingham and received her MA in Applied Linguistics (with distinction) in 2012. birmingham.ac.uk/joannemccuaig
University of Birmingham students are presenting in the Graduate Student Showcase!
For direct enquiries about the program, please use this form: Make an enquiry
---
To arrange a time to speak with a graduate of the program, please email Joanne McCuaig: j.mccuaig@bham.ac.uk
For general information, contact: elalpg@contacts.bham.ac.uk